Introduction: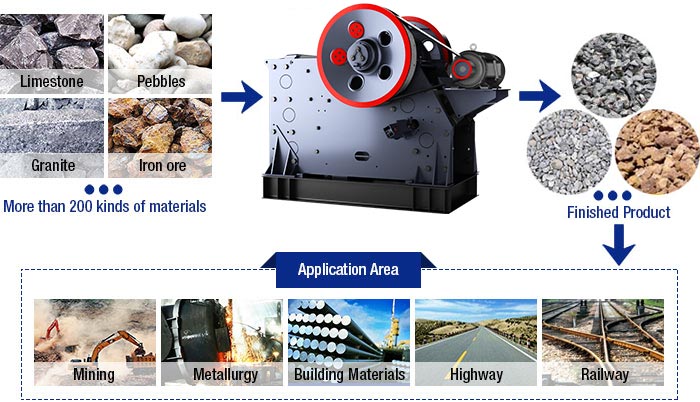 CJ series European Version jaw crusher is a kind of jaw crusher with excellent performance introduced and developed by our company. It has advantages of small footprint, higher crushing ratio, more stable operation, easy transportation and installation, maintenance and adjustment. So it is particularly suitable for fixed crushing production line and mobile crushing station. CJ series European version jaw crusher is commonly used for primary or secondary crushing in the mining material crushing. It is an advanced equipment developed for the crushing of construction materials in highway, railway, airport runway and other projects. It can also be used for secondary and fine crushing of various hard ores and rocks in metallurgy, mining, chemical, cement, construction, refractories, ceramics and other industrial sectors. Compared with the traditional secondary jaw crusher, European version of jaw crusher shows its unparalleled superiority at the aspects of service life, maintenance rate and failure rate.
Performance Advantages
1. It adopts world-class manufacturing process and the most high-end materials.
2. Equipped with wedged adjustment device of discharge port, it is easier, safer and quicker to adjust than the old-type gasket.
3. This series of machine adopt more larger and durable eccentric shaft bearings than other crushers of same specifications, the higher carrying capacity and effective labyrinth seal greatly extend the service life of the bearing.
4. The newest toothed board increases the effective length of the jaw board and improves yield.
Technical Parameter:
| | | | | | |
| --- | --- | --- | --- | --- | --- |
| Model | Feed size L×W(mm) | Max.Feeding size(mm) | Range of discharging port(mm) | Handling capacity(t/h) | Power(kw) |
| CJ80 | 800×510 | 430 | 40~175 | 65~380 | 75 |
| CJ96 | 930×580 | 490 | 60~175 | 120~450 | 90 |
| CJ100 | 1000×760 | 640 | 70~200 | 150~540 | 110 |
| CJ110 | 1100×850 | 720 | 70~200 | 190~620 | 160 |
| CJ125 | 1250×950 | 800 | 100~250 | 290~840 | 160 |
| CJ145 | 1400×1100 | 930 | 125~275 | 400~1050 | 200 |
| CJ160 | 1600×1200 | 1000 | 125~275 | 520~1250 | 250 |