Introduction: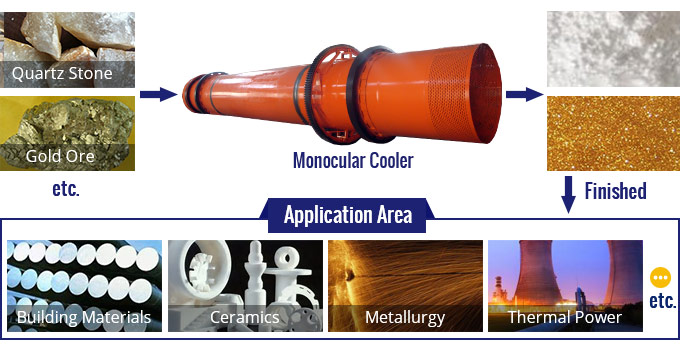 Monocular cooler is suitable for cooling the powdery and granular clinker from rotary kiln. It is the important supporting equipment for rotary kiln. It can absorb the large amount of heat energy carried by high-temperature materials, so that the combustion-supporting air of the kiln can be preheated to a high temperature in order to reach the effect of strengthening calcinations and reducing heat consumption.
Monocular cooler is mainly used to remove the partial moisture and reduce grain temperature of materials. Rotary cooler is widely used in cement, lime, ceramsite and metallic magnesium production field.
Outstanding Advantages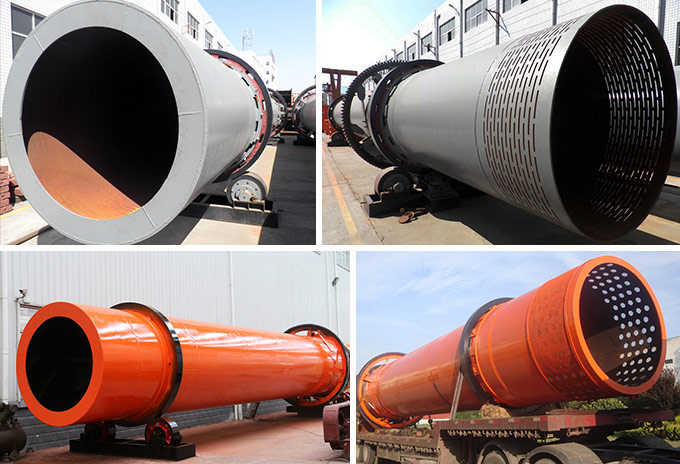 1.Rapid cooling The feed end of our monocular cooler adopts the advanced KID and pulsating wind-supply system, so as to make the discharged high-temperature clinker be quickly cooled.
2.Good cooling effect During the work of monocular cooler, the clinker is raised repeatedly in the lifting zone and scattered evenly. Then cooling air and hot clinker have a strong heat exchange to realize good cooling effect.
3.Supplying high thermal efficiency Rotary cooler can bring the hot air from clinker into kiln as a secondary circulating air, which is good for improving the thermal efficiency of rotary kiln.
4.Maintaining the high quality of clinker The 1000-1200℃clinkers from the rotary kiln rotate with the cylinder of monocular cooler, and have the adequately heat exchange with the cool air. When the material is cooled to below 200 ℃, its quality and grindability is still good.
Technical Parameter:
Spec./m
(Dia×Length)
Capacity
(t/h)
Installation
Obliquity
(%)
Main Reducer

Main Motor
(kw)
Weight
(t)
Φ1.5×15
2~3
3~5
ZQ500
15
28
Φ1.5×20
3~4
3~5
ZQ500
15
35
Φ1.8×18
4~6
3~5
ZQ500
18.5
47
Φ2.0×22
7~8.5
3~5
ZQ500
22
61
Φ2.2×18
7~8.5
3~5
ZQ500
22
64
Φ2.2×22
8~10
3~5
ZQ650
30
73
Φ2.4×24
12~15
3~5
ZS125
45
98
Φ2.5×25
15~20
3~5
ZS125
55
110
Φ2.8×28
16~22
3~5
ZL100
55
130
Φ3.0×30
20~25
3~5
ZL115
75
169
Φ3.2×36
28~32
3~5
ZL115
90
200
Φ3.3×40
32~36
3~5
ZI130
132
237
Φ3.6×36
35~38
3~5
ZSY450-28
185
318
Φ4.0×36
50~60
3~5
ZSY450-25
220
348
Φ4.0×45
60~70
3~5
ZSY450-25
250
414
Φ4.5×50
70~75
3~5
ZSY500-25
315
576