Introduction:
High strength powder grinding mill is mainly used for high-fine powder processing in calcium carbonate crushing and processing, gypsum powder processing, power plant desulfurization, non-metallic mineral milling, pulverized coal manufacturing and other fields. Finished particle size can be adjusted between 80 to 425 meshes. After the improvement of high strength powder grinding mill, the smallest finished particle size can be up to 1000 meshes and the biggest can be up to up to 30 meshes. Its unique three-dimensional structure design is simple and practical with small footprint. With stable and reliable operation, large production capacity, wearing parts are made of ultra wear-resistant materials with more lasting performance, so it is the widely welcomed once launched.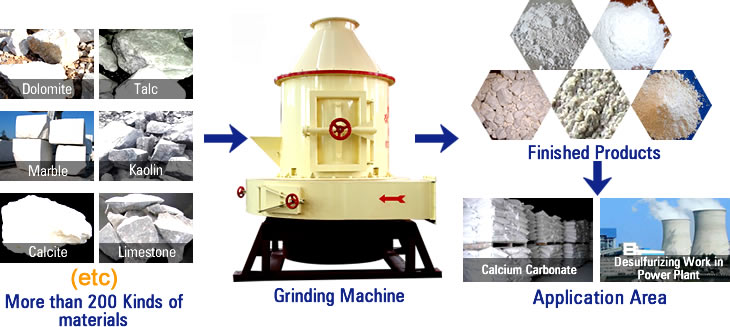 Performance Advantages:
1. Equipped with appropriative dust collector, making dust removal efficiency increased to 99.99%, which can ensure the safety of the equipment and personnel.
2. Dry production technology and zero sewage disposal can save resources and protect the environment.
3. The powder selection system has high degree of sealing, which can prevent powder spill and then eliminate waste and pollution.
4. Optimized equipment grinding principle removes complicated processes, which makes it more efficient and more environmentally friendly.
Technical Parameter:
Parameter
Model
High-strength97
High-strength93
High-strength92
High-strength87
High-strength76
High-strength66
High-strength62
Feeding
size(mm)
≤25
≤25
≤25
≤25
≤20
≤15
≤15
Size of finished
product(mm)
0.033-0.173
0.033-0.173
0.033-0.173
0.033-0.173
0.033-0.173
0.033-0.173
0.033-0.173
Shift output of
different material
fineness(t)
4-52
3.5-40
3-36
2.8-33
1.5-25
1-20
0.6-9
Rotate speed
of central
shart(r/min)
130
140
148
161
170
190
274
Diameter of
pulverizing
ring(mm)
1050
1006
973
907.5
850
725
525
Diameter of
pulverizing
ring(mm)
310
300
300
270
250
210
150
Height of
pulverizing
roller(mm)
170
160
160
150
150
150
100
Main Motor
Y225S-4-37
Y250M-8-30
Y250M-8-30
Y225M-8-22
Y225S-8-18.5
Y200L-8-15
Y160M-6-7.5
Fan Motor
Y225S-4-37
Y180M-2-22
Y180M-4-22
Y180M-4-18.5
Y160L-4-15
Y160M-4-11
Y132S-4-5.5
Analyzer Motor
YCT200-4A-5.5
Y132S-6-3
Y112M-6-2.2
Y112M-6-2.2
Y112M-6-2.2
Y112M-6-2.2
Y90L-6-1.1