Introduction:
Hydraulic cone crusher mainly consists of crack, transmission device, eccentric shaft, bowl type bearing tile, crushing cone, crushing wall, rolling mortar wall, adjusting device, adjusting sleeve, hydraulic control system, hydraulic insurance system, dustband, materials distributed tray, adjustable discharging port, hydraulic station and other components. Through the motor drive, hydraulic cone crusher forces the eccentric shaft to do cyclical swinging under the axis line, making the surface of crushing wall sometimes close to the rolling mortar wall, and sometimes far away from the rolling motor wall, and then making the material in the crushing cavity being crushed due to extrusion and grinding.
Hydraulic cone crusher is mainly used in sand and gravel industry, for medium and fine crushing of a variety of mine and rocks such as iron ore, non-ferrous metal ore, basalt, granite, limestone, sandstone, pebbles and so on.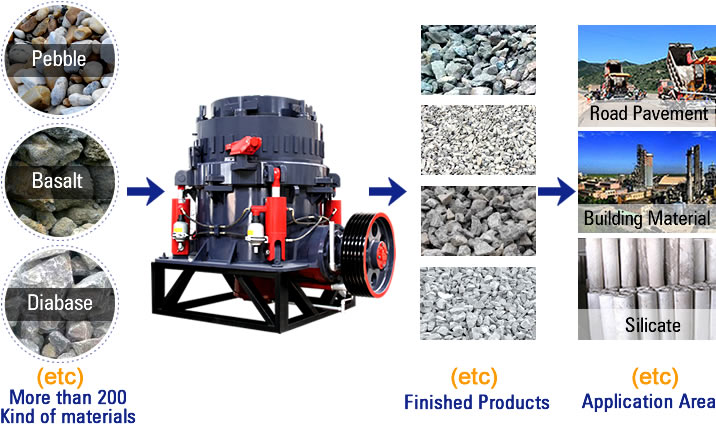 Performance Advantages
1. Large crushing ratio, high production efficiency.
2. Diversified product specifications fully meet customers' needs.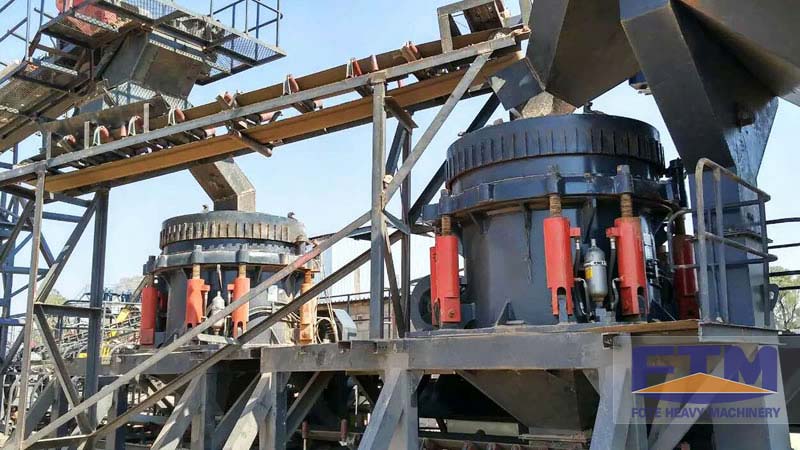 3. All parts adopt wear-resistant protection, which minimizes maintenance costs and makes the service life increase by more than 30%.
4. The adoption of hydraulic adjustment, thin oil lubrication and effective labyrinth seal fundamentally eliminate the oil and water mixing and other common failures of the original spring cone crusher.
Technical Parameter:
Model
Cavity

Diameter of
large end of
crushing cone (mm)

Adjusting Range of
Discharge Opening (mm)

Feed Opening Size
of the Opening
Edge when Recommending
Min. Discharging Gate Opening (mm)

Max.feeding size
(mm)

Processing capacity
(t/h)

Main motor power
(kw)

Machine Weight
(t)
FTMGYS 300
C1
910
13~38
175
150
81~180
6P 90
10
C2
9~22
102
85
60~180
F1
3~16
76
65
36~145
F2
3~13
41
35
36~130
FTMGYS 400
C1
1200
19~51
241
205
207~400
6P 200
20
C2
16~38
210
178
162~350
C3
13~31
137
115
126~310
F1
8~25
105
89
109~230
F2
6~16
89
76
82~230
F3
3~16
64
54
40~230
FTMGYS 500
C3
1600
25~64
269
228
280~650
6P 280
40
C1
22~51
241
205
258~450
C2
16~38
209
178
180~410
F1
10~25
133
113
162~355
F2
6~19
89
76
136~330
F3
5~13
70
60
90~300
FTMGYS 700
C1
2000
31~64
369
314
1125~1814
6P 480
90
C2
25~51
334
284
862~1424
C3
19~38
278
236
544~1034
F1
13~25
178
151
517~680
F2
10~19
133
113
404~580
F3
5~16
105
89
218~463