Introduction:
This series of impact crusher is a new type of impact crusher developed by our company according to the specific conditions of the domestic gravel industry, and combined advanced technology at home and abroad. It adopts the latest manufacturing technology and unique structural design. The finished products are cubic, with good shape, no tension and cracks. It can crush all kinds of coarse, medium and fine materials (granite, limestone, concrete, etc.), widely used in various ore crushing, railway, highway, energy, cement, chemicals, construction and other industries. The size of discharge can be adjusted and the crushing specifications are diversified. Its compressive strength can be up to 350 MPa, and the crushing ratio is relatively larger.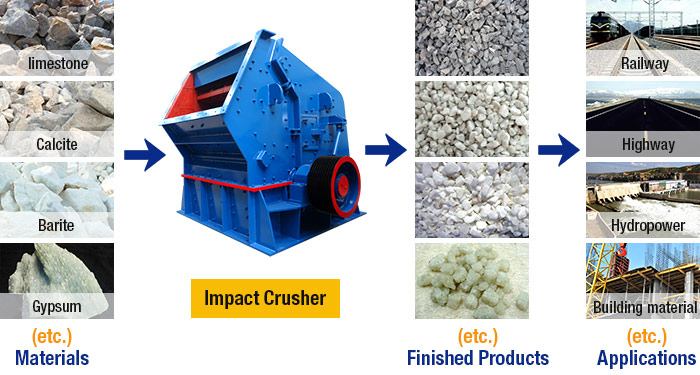 Performance Advantages:
1. Large processing capacity, good product shape
With large crushing ratio, it can adjust the impact board and board hammer to flexibly control discharge size, making product shape good.
2.Unique structure, reliable performance
Compact structure, strong rigidity, and the rotor has a larger moment of inertia. High crushing performance, reliable and stable quality, wide adaptability of materials, high safety and reliability.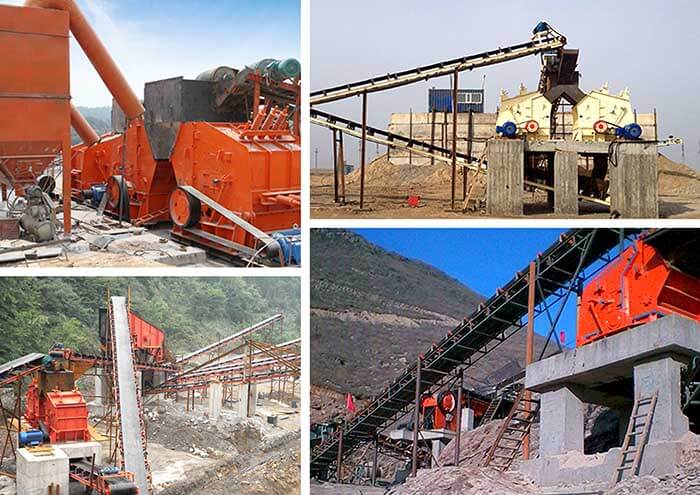 3. High efficiency and energy-saving, low cost
On the first line of the site crushing of materials, effectively reducing production and operation costs.
4.High comprehensive efficiency
High chromium hammer, resistance to impact and wear, large impact force
Technical Parameter:
Model
Specification
(mm)
Feed
opening
(mm)
The Maximum
Feeding Size
(mm)
Capacity
(t/h)
Power
(kw)
Total
weight
(t)
Overall
dimension
(L×W×H)
(mm)
PF-1007
Φ1000×700
400×730
300
30-70
4P 37-45
12
2330×1660×2300
PF-1010
Φ1000×1050
400×1080
350
50-90
4P 45-66
15
2370×1700×2390
PF-1210
Φ1250×1050
400×1080
350
70-130
6P 110
17.7
2680×2160×2800
PF-1214
Φ1250×1400
400×1430
350
100-180
6P 132
22.4
2650×2460×2800
PF-1315
Φ1320×1500
860×1520
500
130-250
6P 200
27
3180×2720×2620
PF-1320
Φ1300×2000
993×2000
500
165-320
6P 250
34
3220×3100×2620
PF-1520
Φ1500×2000
830×2040
700
300-550
4P 315-400
50.6
3959×3564×3330
PF-1820
Φ1800×2000
1260×2040
800
600-800
6P 630-710
83.21
4400×3866×4009