Introduction:
Jaw crusher is the earlier crushing equipment. Because of its simple and strong structure, reliable work, easy maintenance and repair, low production and construction costs, until now it is still widely used in metallurgy, chemicals, building materials, electricity, transportation and other industrial sectors. It is used for the coarse, medium and fine crushing of various ores and rocks whose compressive strength is 147-245mpa. In order to meet the needs of high strength and high hardness crushing in metallurgy, mining, construction and industrial sectors, our company has devoted a lot of manpower, material and financial resources to research and develop a new type of jaw crusher with high efficiency and energy saving. So more and more new jaw crushers have been launched. Welcome to continue to pay attention to our factory.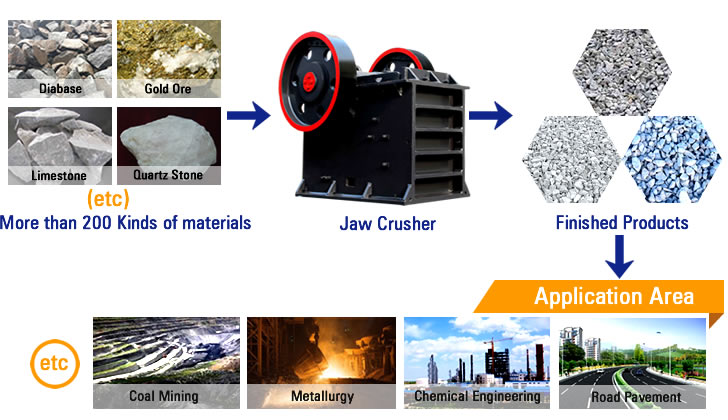 Performance Advantages:
1. Welded Fixed Steel Structure
High quality steel plate avoids the defects of casted steel, making the whole frame more stable.
2.Simple structure, strong crushing force
With advanced crushing process and digital processing equipment, jaw crusher has precise internal structure and strong crushing capacity.
3. Low noise, less dust
With low noise, it strictly meet the national environmental standards. With dust removal equipment, it reduces dust generation, and then reduces pollution.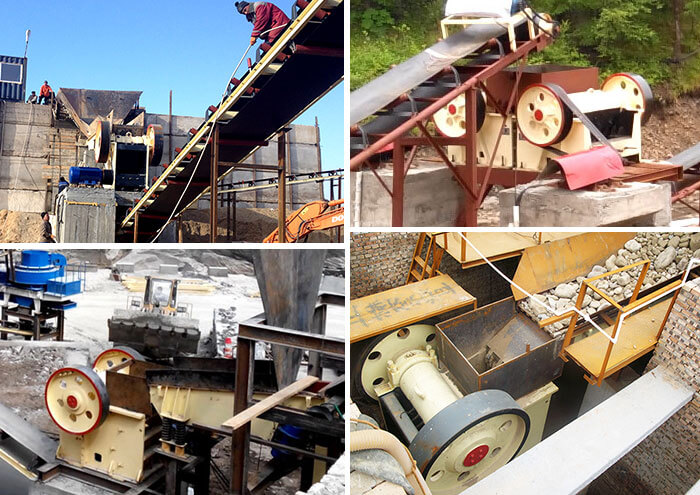 4. Easy operation and maintenance
In the process of use, it is simple to operate, convenient and quick to maintain, reducing downtime and maintenance time.
5. Deep-chamber crushing, high efficiency and energy-saving
Because of deep crushing chamber and no dead space, it increases the feeding capability capacity with big crushing ratio and uniform particle size.
6. Widely use
With wide adjustment range of discharge port, reasonable structure, and small footprint, it meets a variety of processing needs of customers.
Technical Parameter:
Model

Feed opening
(mm)

Max.feeding size
(mm)

Adjusting range of discharge opening
(mm)

Processing capacity
(t/h)

Rotation speed of eccentric shaft
(r/min)

Motor power
(kw)

Total weight
(t)

Dimensions
(L×W×H)
(mm)

PE-150×250
150×250
125
10-40
1-3
250
4P 5.5
0.8
720×660×850
PE-200×300
200×300
180
15-50
2-6
260
4P 7.5
1.2
910×750×990
PE-200×350
200×350
180
18-70
3-10
260
4P 11
1.5
1000×870×990
PE-250×400
250×400
210
20-60
5-20
300
6P 15
2.8
1300×1090×1270
PE-400×600
400×600
340
40-100
16-60
275
6P 30
7
1730×1730×1630
PE-500×750
500×750
425
50-100
40-110
275
6P 55
12
1980×2080×1870
PE-600×750
600×750
500
150-200
80-240
275
6P 55
15.8
2070×2000×1920
PE-600×900
600×900
500
65-160
50-160
250
6P 55
17
2190×2206×2300
PE-750×1060
750×1060
630
80-140
110-320
250
8P 110
29
2660×2430×2800
PE-800×1060
800×1060
640
130-190
130-330
250
8P 110
29.8
2710×2430×2800
PE-830×1060
830×1060
650
160-220
150-336
250
8P 110
30.7
2740×2430×2800
PE-870×1060
870×1060
660
200-260
190-336
250
8P 110
31.5
2810×2430×2800
PE-900×1060
900×1060
685
230-290
230-390
250
8P 110
33
2870×2420×2940
PE-900×1200
900×1200
750
95-165
220-450
200
8P 110
52
3380×2870×3330
PE-1000×1200
1000×1200
850
195-265
315-500
200
8P 110
55
3480×2876×3330
PE-1200×1500
1200×1500
1020
150-350
400-800
180
6P 160-220
100.9
4200×3300×3500
PE-1500×1800
1500×1800
1200
220-350
500-1000
180
8P 280-355
139
5160×3660×4248
PE-1600×2100
1600×2100
1500
300-400
1300-2200
160
8P 350-380
150.6
6210×4013×4716
PEX-150×750
150×750
120
18-48
8-25
320
4P 15
3.8
1200×1530×1060
PEX-250×750
250×750
210
25-60
13-35
330
6P 22
5.5
1380×1750×1540
PEX-250×1000
250×1000
210
25-60
16-52
330
6P 30
7
1560×1950×1390
PEX-250×1200
250×1200
210
25-60
20-61
330
6P 37
9.7
2140×1660×1500
PEX-300×1300
300×1300
250
20-90
16-105
300
6P 55
15.6
2720×1950×1600