Introduction:
Raymond Mill is widely used for high-fine powder processing of more than 280 kinds of non-flammable and non-explosive materials in mineral, chemical, construction and other industries like dolomite, limestone, potash feldspar, barite, calcite, talc, marble, fluorite, activated clay, activated carbon, bentonite, kaolin, cement, gypsum, bluestone, chemical raw materials whose Mohs hardness is not bigger than 9.3 and humidity less than 6%. And it is also widely used in the fields of calcium carbonate crushing and processing, gypsum powder processing, power plant desulfurization, non-metallic mineral milling and pulverized coal manufacturing.
On the base of absorbing a wide range of international advanced technology, Raymond mill has the reform and innovation of structural design, making it more time-efficient, larger output and longer life cycle. At the same time, rigorous internal circulation wind selection operation abandons the dust pollution in the past, ensures the health and environmental protection of the operating environment, and provides convenience for green production compliance.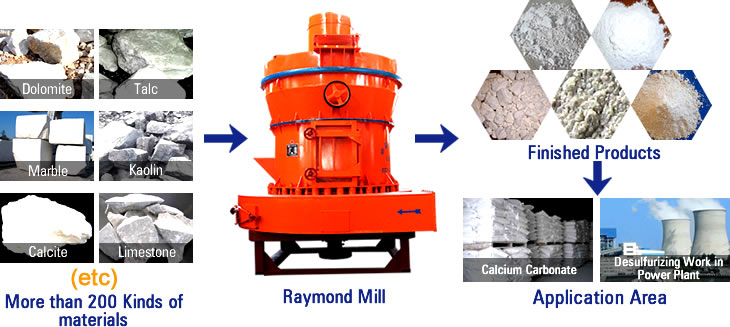 Performance Advantages:
1. High efficiency, low power consumption, small footprint and one-time low investment.
2. High degree of fineness and uniformity of various finished product powder make the sieve passing rate up to 95%, which can't be reached by other powder grinding equipments.
3. The adoption of advanced foreign environmental protection technology effectively reduces dust pollution.
4. Zero-noise mode of operation is standard of the Raymond mill produced by our company, adding a quiet to the world.
Technical Parameter:
| | | |
| --- | --- | --- |
| Model | 4525 | 4119 |
| Feeding Size(mm) | ≤30 | ≤25 |
| Output Size(mm) | 0.044-0.173 | 0.044-0.173 |
| Shift Output of Different Material Fineness(t) | 16-176 | 8-78 |
| Rotation Speed of Central Shaft(r/min) | 82 | 105 |
| Ring Diameter(mm) | 1770 | 1400 |
| Roller Diameter(mm) | 450 | 410 |
| Roller Height(mm) | 250 | 190 |
| Main Motor | Y315M-4-132 | Y280S-4-75 |
| Fan Motor | Y315M-4-132 | Y280S-4-75 |
| Analyzer Motor | YCT250-4A-18.5 | YCT200-4B-7.5 |