Introduction: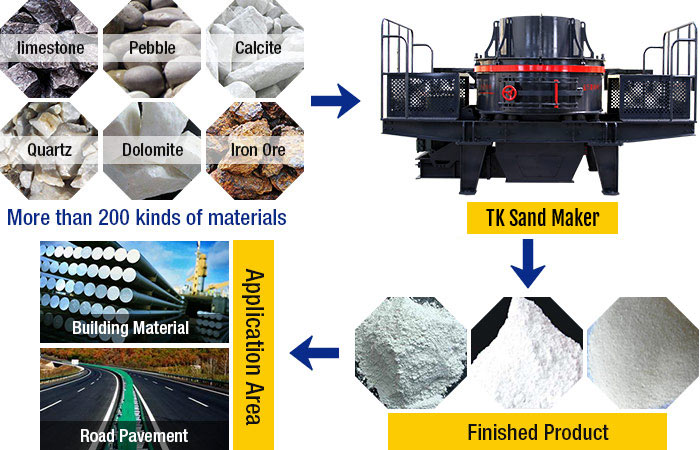 TK sand maker, also known as high-efficiency vertical shaft impact crusher. Comparing with traditional sand-maker, TK sand maker has a great improvement and innovation no matter in technology or environmental protection. So TK sand maker has become a popular choice for users in sand production line. TK sand maker is a new, energy- saving and efficient sand making equipment that developed by the sand maker engineer in our company and foreign sand experts, based on the advanced technology of similar products in China and abroad. This sand maker is widely used for materials crushing and shaping in ores, building materials, artificial sand and other industries. This machine is suitable for brittle materials which Mohs hardness less than 9, while not suitable for materials with high viscosity and high shale content.
Outstanding Advantages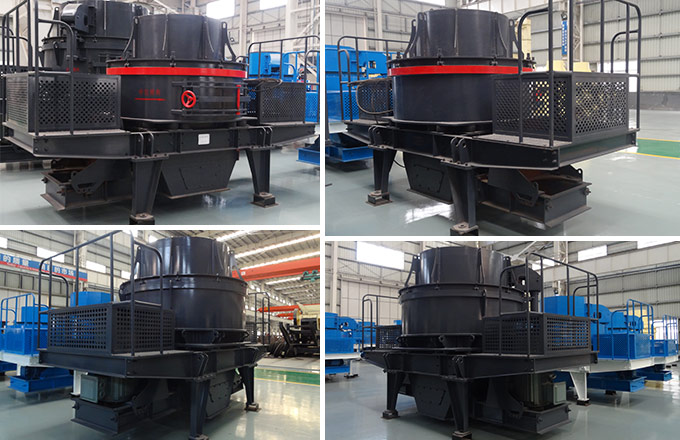 1.Stable operation, long service life TK sand maker adopts advanced technology in China and abroad and runs smoothly in production process. The best design of impact angle in crushing chamber can reduce the friction between material and wear parts, so as to effectively prolong sand maker service life.
2.Dilute oil lubrication, reliable sealing The unique dilute oil lubrication system is designed to improve sand maker lubrication performance. The high-performance non-contact labyrinth seals have no abrasion and improve the reliability of dust blocking.
3.Excellent crushing and shaping effect After the treatment of TK sand maker, the finished gravel aggregates are cubic with good grain shape and high gradation, which can meet current production requirement of high standard.
4.Equipment is green and environmental protection Energy consumption reduction is the development trend of sand maker. Unique sealing device and dedusting device can not only effectively avoid duct leakage, but also ensure the clean and tidy production environment and realize green production.
Technical Parameter:
Model
Capacity(t/h)
Max. Feeding size(mm)
Motor power(kw)
Max.dimensions(mm)
Soft material
Hard material
TK7809
45-115
<30
<25
4P 90KW
4000×1970×2250
TK7811
60-150
<30
<25
4P 2×55KW
4000×1970×2250
TK8618
120-250
<35
<30
4P 2×90KW
4300×2340×2790
TK8622
150-330
<35
<30
4P 2×110KW
4300×2340×2790
TK9626
190-380
<40
<35
4P 2×132KW
4750×2555×2960
TK9632
220-450
<40
<35
4P 2×160KW
4750×2555×2960