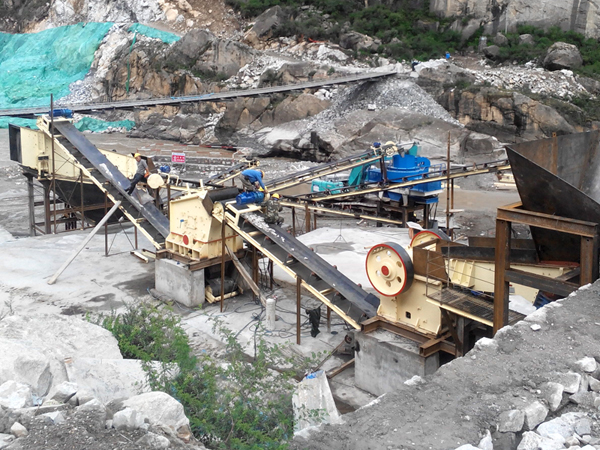 The gravel production line has the superiority in the production and process of main gravel materials like the one used for highway pavement due to its integrity, convenience in operation, and reliable operation. The 150-160t/h gravel production line mainly consists of the GZD1100*4200 vibrating feeder, the PE750*1060 jaw crusher, the PF1315 impact crusher, the 3YZS1860 vibrating screen and the belt conveyor, the electronic control system, etc.
Stone material of big block is evenly fed into the PE750*1060 jaw crusher by the vibrating feeder to conduct the coarse crushing process. The crushed stone is sent into the PF1315 impact crusher with the belt conveyor to be crushed further. The crushed further stone is sent into the 3YZS1860 vibrating screen with the belt conveyor to separate gravel with different grades. The qualified final product is sent to the stock pile while unqualified one is sent back to the impact crusher to be crushed again. Besides, it can be equipped with the dust collection equipment for the environmental protection.
The dolerite gravel production line, made by Fote, is of high automation degree, low running cost, high crushing ratio, energy conservation, high output, less pollution, simple maintenance. Besides, the final product accords with the quality standard of commercial concrete, which is of even particle size, nice particle shape.